Walt Disney World dominated the Florida theme park landscape for many years, although SeaWorld Orlando did manage to draw some visitors when it opened two years after the Magic Kingdom, in 1973. But there was no direct contender until Universal Studios Florida opened a year after Disney's Hollywood Studios, in 1990.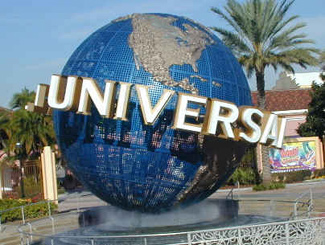 Today, Universal Studios Florida and its sister park, Islands of Adventure, continues to thrive, even with competition from the four Walt Disney World parks. The park focuses on movie and television tie-ins for its rides and attractions. While much of its focus is on Universal-owned properties, it also has attractions tied into characters from other companies, like an E.T. ride from the Steven Spielberg movie, a 4-D show based on the Dreamworks movie "Shrek," and a simulator experience themed to the Simpsons television show. 4 Facts about Universal
Many of the park's attractions are shows, like the unique stand-up show based on the movie "Twister," where you actually get to see a cow fly, and the Terminator 3-D show that seamlessly blends live actors with their onscreen counterparts. Rather than being based directly on movies, some of the shows offer a more broad movie-related experience, For example, Universal's Horror Make-Up Show covers the wide realm of how make-up artists create gore and special effects on screen, while Animal Actors On Location showcases tricks by such diverse creatures as dogs, cats, birds, horses, and even an orangutan to show how animals can be used in the movies.
The park is also home to some interesting hybrid attractions. For example, Disaster is a combination show that incorporates a holographic version of Christopher Walken with a live actor and several audience participation sequences. After the filming a new disaster movie with some volunteers' help, everyone heads over to a tram ride to experience what it's like to ride out an earthquake.
Revenge of the Mummy is another popular hybrid attraction. Although it's mainly a roller coaster, it also has several dark ride elements. You ride through an animatronic scene that sets up the story before your train goes hurtling through the darkness. You rocket up the lift hill, and don't be surprised if you go backward as well as forward. There's also a fiery surprise at the end.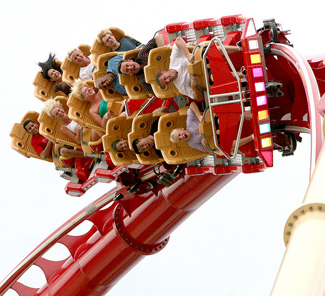 Universal Studios Florida has a traditional roller coaster, too. It's called the Hollywood Rip Ride Rockit, and its claim to fame is allowing riders to customize a soundtrack for the ride by choosing from among a large number of songs in various genres. Cameras capture your ride, and you can purchase a "music video" of the experience at the end. This roller coaster is fairly mild on an overall thrill scale, but it has two unique elements. First, the lift hill takes you literally straight up. You lie on your back and stare up at the sky as the train climbs to the top of the first drop. Second, even though it has a large loop, you never go upside down because your train moves to the outside of the loop.
If you like interactive rides, Men In Black: Alien Attack is a fun and competitive shoot-'em-up. Compete with others in your ride vehicle to see who can shoot the most aliens. If your vehicle gets a high enough score, you'll even earn your special suit.
Universal Studios Florida doesn't leave its younger guests out of the fun. Woody Woodpecker's Kidzone had a roller coaster themed to the nutty namesake bird, as well as play areas based on "An American Tail" and "Curious George." Preschoolers love A Day in the Park With Barney, a show starring the big purple dinosaur and his friends. There's also a daily Superstar Parade that fascinates kids with its character-filled floats. You'll see Dora and Diego, SpongeBob, Gru and the Minions (who also star in a simulator ride at the park), and E.B. and his friends from "Hop." The parade stops along the route for performances, so you'll see something different, depending on the float you're near. Each of the floats is self-contained, and single floats come out periodically to put on mini performances and give guests a chance to get photos with the characters.
At night, the park has a closing salute to 100 years of Universal movie-making with the Cinematic Spectacular show. It takes place on the lagoon, using amazing water screens and light and water effects to pay tribute to all the most popular movie genres. Does the narrator's voice sound familiar? It should because it's silver-tongued Morgan Freeman.
You might notice a big construction area if you visit Universal Studios Florida before 2014. That's the rumored Harry Potter expansion that will give the boy wizard another home base, in addition to Hogsmeade at Islands of Adventure. 2013 visitors can still try out something new: the Transformers simulator ride, which was so popular in California that Florida got its own version.
You'll find great Univeral packages at www.orlandtravelproviders.com or by calling 1-800-618-5002.