Walt Disney World
The Walt Disney World resort opened in 1971 and, soon thereafter, put Florida on the map as a premier vacation destination. Walt Disney was smart enough to buy around 40 square miles of prime property in the Orlando area so he'd never get landlocked like he did in California with Disneyland. While he didn't live long enough to see the Magic Kingdom's opening day, his legacy continues to thrive and grow.
The Disney World resort is akin to a small town. It even has its own fire stations. It currently has four separate theme parks: the Magic Kingdom, Epcot, Disney's Hollywood Studios, and Disney's Animal Kingdom. Each park has its own distinct ambiance, but they all share the common goal of storytelling through the use of rides, shows, parades, and other attractions and bringing Disney movies and characters to life.
Magic Kingdom
The Magic Kingdom was first, and many people still think it's the best of the four theme parks. It's certainly a place that delights youngsters with so many kid-friendly rides in Fantasyland and the New Fantasyland expansion. The Dumbo ride is a classic, and there are also attractions based on such characters as Winnie the Pooh, the Little Mermaid, and Peter Pan. Other classic rides include the three "mountains," which are the Splash Mountain water ride and the Space Mountain and Big Thunder Mountain roller coasters.
While the Magic Kingdom is a classic, it also keeps up with the times. One good example is the Sorcerers of the Magic Kingdom interactive game, which immerses guests in a role-playing scenario where thye help Merlin the Magician defeat various villains throughout the park. Using special cards and magic portals, players challenge the likes of Scar, Dr. Facilier, and Ursula in spell-casting showdowns.
Epcot Center
Over at Epcot, Walt's love of technology takes center stage in Future World. He once envisioned an "Experimental Prototype Community of Tomorrow" where people would actually live and work. The concept was altered into a theme park with continually changing exhibits in the Innoventions areas, which showcase things like a home packed with "green" technology and a robot arm that gives simulated roller coaster rides. Future World also has themed pavilions like Test Track, where guests design cars, ride a prototype vehicle, and go through interactive fun with the car they created; The Land, home to the popular Soarin' ride that simulates hang gliding over California; and Mission: Space, where riders are whisked off on a very realistic spaceship ride to Mars.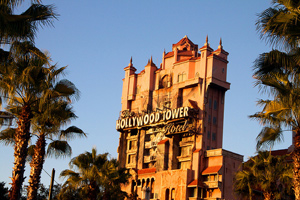 Disney's Hollywood Studios
Walt's studio played a big role in his history, and Disney's Hollywood Studios pays homage to the early days of Hollywood, the art of animation and movie making, and the beloved Pixar characters. While its focus is obviously on Disney and Pixar, you'll see other media incorporated into some of the attractions. For example, there's the stomach-churning Twilight Zone Tower of Terror, a stunt show based on Indiana Jones, and Rock 'n' Roller Coaster starring Aerosmith.
It was big news with Disney bought the Star Wars franchise from George Lucas, but the Star Tours ride has been at Disney's Hollywood Studios since 1989. The park is also home to Star Wars Weekends, an annual event that draws celebrities and hard-core fans every spring.
Disney's Animal Kingdom
Disney's Animal Kingdom is the fourth park, and the name sums up its focus quite well. There are animal habitats throughout the park, many of which you can see on foot. However, you'll need to board the Kilimanjaro Safari ride to go out onto the huge savannah and view a collection of African animals that includes lions, cheetahs, hippos, giraffes, and zebras.
This park has thrill rides, too, like the Dinosaur time-traveling dark ride, the Kali River Rapids water ride, and the Expedition Everest roller coaster. Shows include Finding Nemo: The Musical, Festival of the Lion King, and It's Tough to be a Bug.
The theme parks are only part of the experiences at the Disney World resort. There's the Downtown Disney shopping and entertainment area, which has bowling, boating, balloon rides, movies, the Disney Quest virtual theme park, and the Cirque du Soleil La Nouba show, along with many stores and restaurants. Hot days are perfect for a stop at one of the two water parks, Blizzard Beach and Typhoon Lagoon, and the whole family can have some competitive fun at the Winter Summerland or Fantasia Gardens miniature golf courses.
Walt Disney World may sound overwhelming, but the experts at www.orlandtravelproviders.com can help you sort things out and book a vacation package that will let you experience Disney to its fullest. From money saving tips to booking accomodations we can help plan the perfect vacation. Visit the website or call 1-800-618-5002.