Inside Disney World
Stay right in the heart of Walt Disney World and build your vacation package around one of these top resort hotels.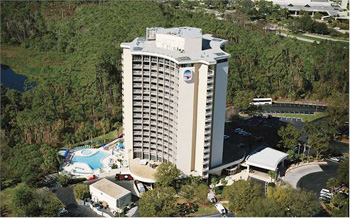 With free shuttle service to and from the park every thirty minutes you can plan your day around your schedule and needs without the hassle of driving and parking.
While staying at a hotel inside Disney World may sound expensive there are plenty of resorts to choose from including all star hotels with economy pricing to luxurious accommodations. Each is carefully inspected by the Disney Company on a regular basis to ensure the quality and standards will meet or exceed the needs of visitors to the park.
Some hotels on the Walt Disney World property include…
The Best Western Inside Disney World, may be one of the most recognizable hotels inside the theme park. Standing right in the heart of Downtown Disney this 18 story hotel has something for everyone in the family. With 3 room options, including the popular Epcot view that will provide the best seats in the house for the nightly fireworks, families are sure to find exactly what they need in a hotel for their Orlando vacation.