Save Money in Orlando by Staying in a Vacation Home
If you're like most families, you pack up the kids and head down to Orlando to stay in a hotel room, or maybe two if you're got a big party. If you want some extra space, you might opt for a suite. At least it gives you a kitchen, even though you might still be a bit cramped.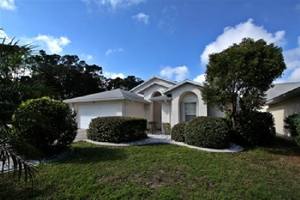 Have you ever thought about booking a vacation home? Yes, a home, a full-fledged, full-sized house with a kitchen, living room, and multiple bedrooms and bathrooms. Many even have their very own swimming pools. No more dealing with crowded hotel pools. Your family has its very own private spot to cool down.
That probably sounds expensive, but vacation homes in Orlando are surprisingly affordable when you break them down to a per-person rate. Larger families are forced to get multiple hotel rooms, and you can't always get rooms that connect or that are even next door to each other, especially if you're coming to Orlando at a busy time of year. Some hotels have suites, but they're more expensive than standard rooms and usually still have limited space.
A house guarantees that everyone stays together, yet the whole family still gets room to spread out. The younger kids can be napping in one room while their older siblings play in the pool and the parents lounge in the sun while watching them from the deck.
Vacation homes save money in other ways, too. One of the biggest is food costs, as a fully equipped kitchen complete with a stove, oven, microwave, refrigerator, dishwasher, and other appliances lets you cook meals instead of springing for theme park food or restaurants. Most of the Orlando tourist areas have grocery stores nearby. Stock up at the local Publix and eat at least one meal per day in your vacation home. You won't even have to buy disposable plates and utensils because the homes provide cookware, dishes, and silverware as a standard perk.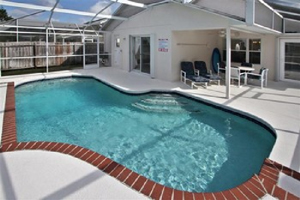 Another savings comes from reduced luggage fees. The airlines are always looking for ways to increase their revenue stream, and most charge your for checked bags. Staying at a vacation home allows you to pack less because you'll have a washer, dryer, and ironing board. It might not be pleasant to do laundry while you're on vacation, but you'll feel a lot more cheerful when you think about the extra money in your pocket.
Some hotels in Orlando charge for parking, but that's not a concern when you rent a vacation home. You don't have to worry about circling the parking lot looking for a spot that doesn't require a long hike with the kids in tow either. Just pull right into your own driveway.
Vacation homes have benefits that go beyond your pocket book. Privacy and space to spread out is priceless. If you have a baby or young kids who need their midday nap, you know what a disaster it can be if noisy hallways with slamming doors and running, screaming neighbors wake them up when they're sleeping in a hotel room. You don't have to worry about that when you have a literal home away from home. Tuck them in and they'll sleep soundly, regaining their energy for a return to the theme parks later or an excursion to other attractions.
If you have questions about vacation home advantages and prices. visit orlandovacation.com or call 1-800-641-4008. You may even find a package deal or special that includes free days on your Walt Disney World ticket.