Disney's Animal Kingdom
Kids love animals and they love Walt Disney World. Combine those two popular elements and you wind up with Disney's Animal Kingdom, the fourth theme park to open at the Disney resort. Rather than fantasy, technology, or movies, it's all about the various creatures that share the world with humans, from insects up to elephants.
Featured Attractions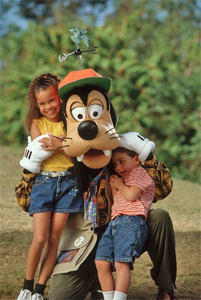 Live animals play a big role at Disney's Animal Kingdom, and Kilimanjaro Safari is the most popular way to see them. Guests board safari vehicles and venture out into the wilds of "Africa" to view animals roaming the savannah in spacious natural habitats. Some, like the lions and cheetahs, are kept away from guests by well-hidden barriers. Others, like giraffes, ostriches, and antelope, can literally walk right up to the safari vehicles for the ultimate in close-up photos. This ride is best early in the morning and on cool days, when the animals are most active.
You can also see a wide variety of wildlife on the two walking trails, the Pangani Forest Exploration Trail, where a troop of gorillas are the stars, and the Maharajah Jungle Trek, with regal tigers on display. The Imagineers who designed the park also worked animal habitats into various spots around the walkways, so keep your eyes open.
Kids who want to get close enough to touch the animals can board the Wildlife Express train to Rafiki's Planet Watch and head over to the Affection Section Petting Zoo. If you're an avian fan, don't miss Flights of Wonder. This show features various unusual bird species performing natural behaviors.
Disney's Animal Kingdom features some extinct animals, too, and brings them back to life in dramatic fashion. Dinosaur takes you back in time to a dark, dangerous world when dinosaurs still walked the earth. The darkness and scary creatures might make this ride too intense for younger or more sensitive kids. Don't worry, though, because they can still experience dino-themed attractions in Dinoland USA. The kid-friendly rides include TriceraTop Spin, which is much like the Dumbo ride, and Primeval Whirl, a spinning wild mouse-style roller coaster.
Older kids and thrill ride buffs can challenge Expedition Everest, a roller coaster that tackles the mountain in search of the legendary Yeti. You'll go backwards and hurtle through the darkness on a surprisingly intense coaster. Warm days are perfect for a rampaging raft ride on Kali River Rapids, a watery experience with a conservation message.
Shows At Animal Kingdom
Disney's Animal Kingdom has plenty of shows, too. They're a welcome respite from the Florida heat, which seems especially intense when you're walking down narrow paths through jungle-like foliage, as most are in air-conditioned theaters. In It's Tough to be a Bug, Flick the ant shows the audience what it's like to be an insect, with 4-D effects to intensify the experience. Finding Nemo: The Musical is a Broadway-style interpretation of the popular Pixar movie, and Festival of the Lion King is a high-energy, interactive celebration with Simba and friends.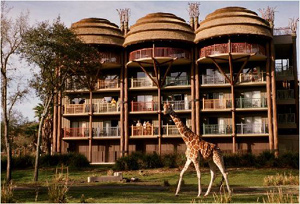 Everyone loves a parade, and Mickey's Jammin' Jungle Parade kicks off every afternoon with a colorful line of characters, floats, dancers, and other entertainers. At 15 minutes long, it's geared to a kid's attention span, especially since it runs later in the day, when younger children might be starting to get cranky.
Depending on just how much you want to see at Disney's Animal Kingdom, it can be a half day or full day park. A half day will let you catch the main attractions, while a full day gives you time to explore all the little things, like animal habitats, the Tree of Life carvings, and other displays that you would otherwise miss. No matter how long you intend to stay, get to this park at opening time. You'll be rewarded with the best possible animal spotting opportunities on the safari and walking trails, since the creatures are most active early in the day. They slow down and seek out hiding spots in the shade once the sun starts beating down in the afternoon.
If you're heading to Walt Disney World on vacation and planning to include Disney's Animal Kingdom on your trip, go online and visit www.orlandtravelproviders.com or call 1-800-618-5002 for planning help and great prices on tickets and lodging.