Disney Water Parks
Walt Disney World has two water parks that get plenty of use during the sweltering summer months, although they're actually open all year 'round. They do close during the winter for rehab, but one is always open while the other is undergoing work to spruce it up for the peak season.
Typhoon Lagoon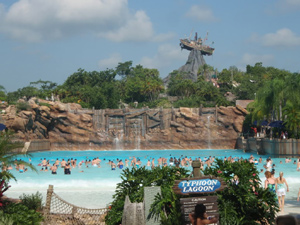 The first of the two Disney water parks is Typhoon Lagoon, which opened in 1989. It's themed as a tropical paradise that was a calm, serene spot until it was rocked by the namesake storm. Now you'll find various items like boat engines, surf boards, and the like in the odd spots where the typhoon left them. The park's icon is the shrimp boat Miss Tilly, which is perched on top of Mount Mayday. The mountain erupts with a loud horn and a geyser of water every hour.
While Typhoon Lagoon has the standard body and tube slides that are common fare at virtually every water park, it also has some unique attractions that make it stand out. Chief among them is its huge wave pool, which can produce real, surfable waves. Most wave pools simply agitate the water, but the Typhoon Lagoon waves are so authentic that the park holds surf classes in the morning before opening time.
The Shark Reef is also unique because it's a saltwater snorkeling area that actually lets guests get in the water with the namesake creatures and a wide variety of tropical fish. Don't worry, you're family's in no danger as the sharks are all harmless varieties. The park provides all the gear you'll need, and it's included with your admission ticket.
Typhoon Lagoon also has the Crush 'n' Gusher water roller coaster, which is different than your typical water slide because it sends you uphill as well as down. Water jets send you up the inclines, and you get a thrill when your raft plummets down the hills.
This water park is a great family outing spot because your tween and teen adrenaline junkies will find plenty of suitable rides while the younger kids hang out in the water play areas created just for them. There's even a family tube ride where everyone can navigate the slippery, sliding flume in the same big raft. Parents and kids also like to float along together in the lazy river.
Blizzard Beach
Blizzard Beach was created with the whole family in mind, too. Only Disney Imagineers could have come up with its theming: a ski resort. Yes, a snowy, chilly ski resort. The park, which opened in 1995, was said to have been created when a freak snow storm hit Florida. This led to an attempt to build the state's first ski resort, but the snow didn't last very long. Fortunately, the melted pools were perfect for water-based recreation, or so the Disney legend goes.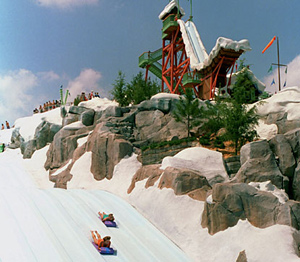 As a reminder of its back story roots, Blizzard Beach still has a working ski lift that takes riders up to some of the water slides. The various slides are built for either single rides or racing, and you ride on your butt, a mat, or an inner tube, depending on which one you choose.
Like its sister water park, Blizzard Beach has a wave pool and lazy river. Its pool is the typical agitation style, so it's not suitable for surfing, but it's still great fun to bob like a cork in the waves. There are also areas for younger kids to have wet but tame fun while their older siblings challenge the big slides, like the 120 foot tall Summit Plummet. This body slide sends riders almost straight down at speeds of up to 60 miles per hour. It takes a strong stomach, as well as strong nerves, to challenge this signature attraction.
Blizzard Beach is also home to Winter Summerland, a pair of miniature golf courses themed to the two opposing seasons, with a Christmas theme in both. You'll see Santa Claus on both of the colorful, family-friendly courses. The miniature golf is not included with your Blizzard Beach admission, and you can head over for some putting fun even if you don't visit the water park.
Both Typhoon Lagoon and Blizzard Beach offer free parking. Get to the water park of your choice as early as possible during the summer because they do reach capacity. If you're hearty enough to swim in the winter, when temperatures get too cold for the locals, you'll have fun without waiting in any long lines.
If you're wondering how to fit a Disney water park into your trip, visit www.orlandtravelproviders.com or call 1-800-618-5002 to find out your ticket and package options.