Disney's Hollywood Studios
Disney's Hollywood Studios is a small theme park when compared to its three siblings at Walt Disney World, but it's still a must-see for the Star Wars fans, Pixar buffs, and thrill seekers in your family. Because of its size, you can combine it with another park if you get Park Hopper tickets or spend part of the day enjoying your hotel or vacation pool home or stopping by the Downtown Disney entertainment district.
Attractions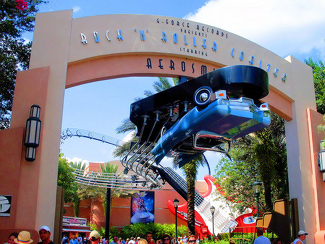 Despite its name, this theme park isn't just about movies. It also pays homage to television shows and music. For example, one of its most popular attractions is the Twilight Zone Tower of Terror, based on the classic TV series of the same name. The ride is themed as an old freight elevator in a haunted hotel with a dark past. You'll need a strong stomach for this one as it whisks you up, plummets you down, and repeats the whole ordeal in a random sequence.
You'll visit a "music studio" if you decide to ride Rock 'n' Roller Coaster Starring Aerosmith. You come upon the band doing a recording session, and they invite you and your fellow guests to their concert. How do you get there? By hopping into the limousine-themed roller coaster cars, of course. This is the only roller coaster at Walt Disney World that flips you upside down, and it's arguably the most thrilling of all Disney's Florida coasters.
But movies are the biggest draw in this park, which covers both Disney and Pixar. The Great Movie Ride takes you through the history of motion pictures with Audioanimatronic re-creations of famous scenes (and a few surprises along the way). See shows based on "The Little Mermaid" and "Beauty and the Beast" and compete against your family in virtual carnival games as you ride "Toy Story Mania." Star Wars fans love Star Tours: The Adventure Continues, a special simulator ride with multiple story lines. You'll want to ride it several times to explore the different possibilities. If you love the Muppets, catch their 3-D show. "Pirates of the Caribbean" fans won't want to miss the special attraction featuring Captain Jack Sparrow.
While Disney's Hollywood Studios is centered around fun, you can also slip in a little education on the kids. They can learn about what it takes to create cartoons in The Art of Animation or learn how movie special effects are created on the backlot tour. Want some excitement? There's a wild smash-up stunt show featuring cars doing crazy feats and another stunt show with an Indiana Jones theme.
If you've ever dreamed of being on "American Idol," you can get your chance at this theme park. The American Idol Experience is a daily show and competition pitting guests against each others in performances that are very much like popular TV show. The audience votes for their favorites, and winners from each of the day's shows return that evening for a final face-off. If you win that last round, you get a "golden ticket" that puts you at the front of the line for a real Idol audition in or around your home city.
Special Events At Hollywood Studios
While the regular rides, shows, and attractions are enough to keep you busy for half a day or more, Disney's Hollywood Studios also holds special events. The most popular is Star Wars Weekends, an annual tribute to the science fiction movie series that brings costumed fans together with their favorite celebrities from the Star Wars universe every spring.
Christmas brings another big event: the Osborne Spectacle of Dancing Lights. The late Jennings Osborne was known for his elaborate Christmas decorations at his Arkansas home, but his neighbors eventually rebelled and sued because of the crowds attracted by his displays. He packed up his lights and sent them to Walt Disney World, where they've delighted visitors to Disney's Hollywood Studios every holiday season since 1995.
If you want to include Disney's Hollywood Studios in your Walt Disney World trip, visit www.orlandtravelproviders.com or call 1-800-618-5002 to talk to a helpful agent about the various packages, lodging, and ticket options that would work best for your family.