Five Easy Ways to Save Money on Your Disney World Vacation
Stay at an off-site hotel or vacation home
Walt Disney World has its own on-site hotels, and it's fun to be right on Disney property at a themed resort. Of course, you pay for that privilege, so staying off-site is much less expensive. There are plenty of hotels and vacation pool homes that are only a few minutes away from the Disney theme parks. Many even have free transportation to the Magic Kingdom, Epcot, Disney's Hollywood Studios, and Disney's Animal Kingdom, just like the Disney-owned properties.
Eat meals at your hotel or vacation home
Meals are usually a large part of your vacation budget. Theme park restaurants are typically more expensive than eateries outside of the Walt Disney World resort. Off-site eating at chains and buffets helps bring down the cost, but the least expensive option is having meals at your hotel or vacation home.
Eating in your room is especially convenient if you're staying in a suite with a full or partial kitchen, like Grand Beach Resort at Lake Buena Vista, Royale Parc Suites, Baymont Inn and Suites Celebration, Grande Villas Resort at Lake Buena Vista, or in a vacation pool home like those at Mystic Dunes Resort and Regal Palms Resort and Spa. Publix, Wal-Mart, and Super Target all have stores throughout the Disney area, so it's easy to buy groceries and make tasty but budgetary meals.
Bring snacks with you to the Disney parks to tide your family over until meal time. Granola bars, dried fruit, nuts, cookies, small boxes of cereal, and other easy-to-carry snacks work best.
Split the meals you eat inside the Disney theme parks
Portion sizes for both the counter service and sit-down restaurants inside of Walt Disney World are often large enough for two people. This is especially true if you have kids in your party. Order one meal and split it between two members of your party. It will be plenty to eat and will dramatically slash your food costs for in-park meals.
Buy souvenirs outside of Walt Disney World
All four Walt Disney World theme parks are packed with stores selling souvenirs, and the Downtown Disney shopping district has World of Disney and other shops. Even the Disney hotels have well-stocked stores with lots of tempting merchandise. However, you'll pay a premium if you buy your souvenirs anywhere at the Walt Disney World resort.
The Wal-Mart, Target, Walgreens and CVS stores in the Orlando/Kissimmee area are packed with an amazing variety of Disney souvenirs. You'll find t-shirts, hats, mugs, toys, backpacks, and much, much more. Better yet, the cost is a fraction of what you'd pay at the theme parks, hotels, or Downtown Disney shops. They also sell cheap rain ponchos if you're visiting during the rainy season.
If you have a car and you're feeling adventurous, make the 45-minute drive to Winter Garden and check out Theme Park Connection, a fun warehouse store that sells Disney memorabilia. Some of it is rare and high-end,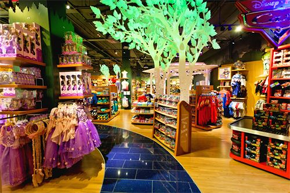 like actual signs and ride vehicles, but many items are inexpensive and make great souvenirs. Let the kids buy some cheap Disney pins for trading, toys, or other souvenirs. It will feel like a treasure hunt due to the size of the store and the amazing amount of stock.
Visit Walt Disney World as many days as possible
Although it may sound strange, the price of your Disney ticket actually gets more reasonable as you add more days because the cost per day goes down. It might be tempting to add a side trip to SeaWorld or the Universal theme parks, but if you're on a tight budget, sticking to Disney is your best bet. Having multiple days to see the four Disney parks also ensures you'll get a chance to see and do everything and may hit your family's favorite attractions a second, or even third, time.
To find out more about how this works, visit www.orlandotravelproviders.com or call 888-4874895 and talk to a helpful agent who can explain your ticket options and the best ways to save money.